A criminologist's report about the state of crime and social disorder in Penticton paints a pretty bleak picture if first responders and the city stay the course of how they are reacting to the current crisis.
The new 'Focus on Safety' review states Penticton's approach to community safety needs an overhaul.
Currently, RCMP are reactive and not proactive or engaging with the community, spending more than half of their calls dealing with mental health issues, something Interior Health should be doing, said Dr. Curt Griffiths, the criminologist from Simon Fraser University who put together the 200-page study.
He looked at crime stats, carried out focus groups and talked to first responders from fire, police and bylaw. There is no input from Crown counsel or ambulance in this report.
One thing Griffiths found is that while most communities in B.C. are dealing with the same crime and social disorder issues, Penticton is in bad shape.
"Usually a public's perception about crime is distorted and doesn't match reality. In Penticton's case, perception does match reality. Crime, particularly violent crime is up 60 per cent," said Griffiths. "What I heard from residents is about the disorder and that doesn't appear in any crime stats. That is lived experience."
Griffiths and Anthony Haddad, the city's general manager of community services, presented the report's results at the first of two online forums on Jan. 10.
Also present on Tuesday was fire chief Larry Watkinson. Another online forum takes place Thursday, with RCMP Supt. Brian Hunter expected to attend.
Haddad told the online forum that the opioid crisis, crime, mental health, addictions and homelessness have had a huge drain on first responders and the city can't continue to throw endless money at it.
"The city has made a significant investment in the budget, with a 23 per cent increase for RCMP and fire. It's not financially sustainable for the city to continue this way," said Haddad.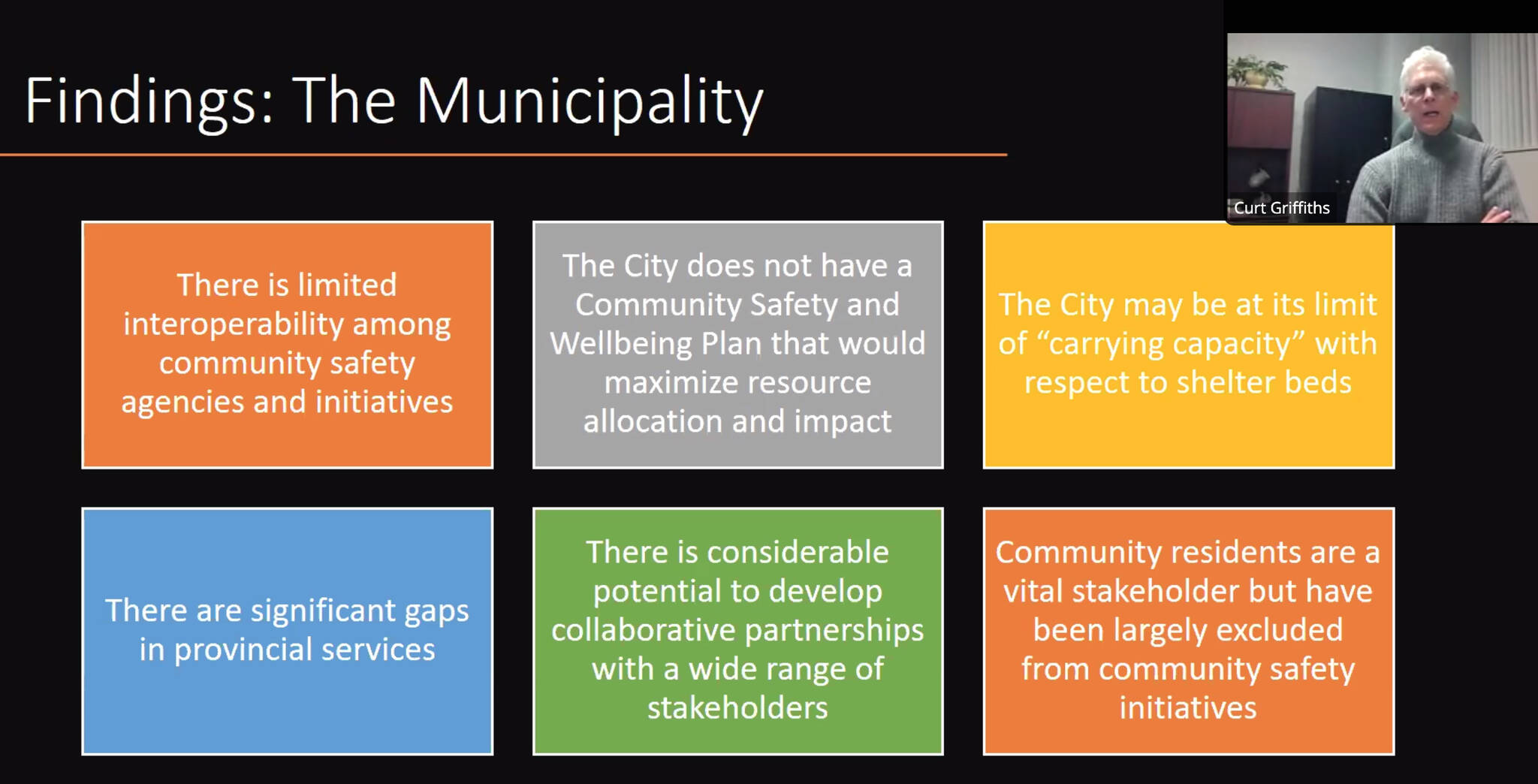 Hiring more police officers and throwing them on the front line will not improve the current crisis, said Griffiths, who suggested that police need to invest in community policing and community engagement.
The study supports the city paying for and not waiting for the province and Interior Health to bring a Car40 program to Penticton. Having mental health experts go out to mental health calls will free up RCMP to deal with crimes.
"Fifty-two per cent of police calls for service are for mental health. Divert those calls to [Car40]. Set up a police telephone response that can triage calls for police service instead of police going out to every call."
Supt. Hunter said nothing in the report came as a surprise, but he did say hiring more police officers will allow for them to do that proactive policing the report calls for.
The blame for the B.C.-wide crisis falls on the provincial government who has had no plan to deal with the increase in mental health and addictions and the lack of treatment beds and wrap around services, said Griffiths.
"Right now it is every community for themselves. The provincial government is a variable partner, sometimes they are there, sometimes not. Sometimes they consult with a municipality, sometimes they do not."
The lack of real-time, on-demand treatment beds throughout the province has contributed to the crisis including the overdose deaths, he added.
Currently, the Penticton fire department, which city taxpayers pay for, is subsidizing the province by going to medical calls that ambulances should be going to.
In fact, only one per cent of calls are for structure fires.
Penticton's fire chief said the demand for service in Penticton has skyrocketed with a 40 per cent increase in medical emergencies.
"We need one more ambulance day and night here but they are really struggling," said Watkinson. The study suggested that the fire department should not be taking out their large pumper trucks to medical calls and would benefit from using a smaller vehicle and setting up a medical team.
Griffith also said that Penticton's 'carry capacity' may have reached its limits for the number of shelter beds it has.
The study's recommendations would be a $5 million investment for the city, said Haddad.
While the price tag is steep, the cost of doing nothing is much higher, said Griffiths.
The next online session is on Jan. 12 from 6:30 to 8 p.m. Register for the session at penticton.ca.
To report a typo, email: editor@pentictonwesternnews.com.
<>
Don't miss a single story and get them delivered directly to your inbox. Sign up today for the Penticton Western News Newsletter.
<>
---
@PentictonNews
newstips@pentictonwesternnews.com
Like us on Facebook and follow us on Twitter.