Cathy English
Revelstoke Museum and Archives
This article was originally published in the Revelstoke TIMES Magazine.
Revelstoke's fame as a centre of skiing goes back to the 1890s when Scandinavian settlers introduced what were then known as "Norwegian snowshoes" to the community. People were using skis as a mode of transportation, but recreational clubs also sprang up, and skiing became a local winter sport.
In 1914, the growing population of Scandinavian settlers started a competitive club, and the formal Revelstoke Ski Club was born, with 23 members. By the time they held their first Winter Carnival in February of 1915, the club was up to 102 members, making it the largest ski club in Canada for many years. The carnival included ski jumping on a hill at the base of Mount Revelstoke, as well as long-distance races and sprints.
Out of the first Winter Carnival, Nels Nelsen emerged as a rising champion. He won the ski jumping event with a jump of 99 feet, and took the title of B.C. Champion. The beautiful C.B. Hume Trophy that Nels won is on display at Revelstoke Museum and Archives, courtesy of his family. This was the start of a remarkable career that saw Nelsen acknowledged as a top North American athlete.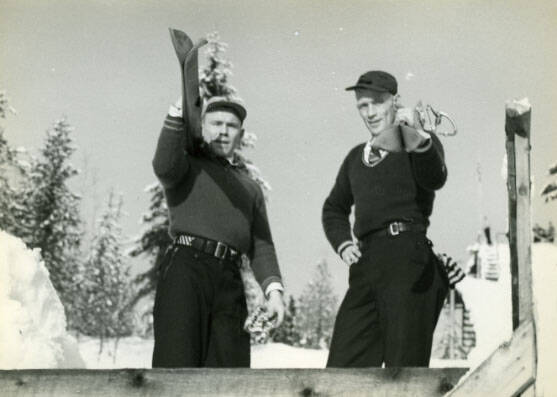 Nels Nelsen was born in Norway in 1894, and came to Canada with his family in 1913, where they settled on a farm in Big Eddy. Nels had one brother, Ivind, and four sisters, all of whom were skiers.
Later in 1915, the Revelstoke Ski Club negotiated with Parks Canada to locate the ski jump within the park boundaries. The jump was used for the first time for the 1916 Winter Carnival, and remained in use until the 1970s. At the 1916 Carnival, Nels Nelsen took the Canadian Championship, winning the Nabob Cup, which is also on display at the museum. Nels held the Canadian record from 1916 to 1932, breaking his own record five times. Nels Nelsen's name was beginning to be well known in ski jumping circles across the continent, and he sealed his fame in 1925, when he set a World Amateur Record with a jump of 240 feet. That record remained unbroken for five years.
The locals were very proud of Nels' accomplishments, and were so confident of his abilities that in 1928, local fur dealer J.H.S. Munro offered a prize of a new car to anyone who could break Nels' 1925 record. Much to Munro's relief, the record remained unbroken, and he did not have to award the car. The incentive did attract many other world-class jumpers, which was Munro's objective in offering the prize.
In 1926, Nels Nelsen was included in the Spalding's Champion sports collector card series, along with notable athletes including baseball player Babe Ruth and boxer Jack Dempsey.
Nels not only made a name for himself, but did a great deal to advance the sport and encourage young people to learn the art of ski-jumping. Boys would fight for the privilege of carrying Nels' skis to the top of the hill for his next jump, and would copy his style to the best of their ability.
Nels' jumping career came to an end in 1933 when he lost a hand in a hunting accident, but he continued to coach and promote the sport until his death of a heart attack in 1943 at the young age of 49. Besides his incredible skiing legacy, he left his wife and ten children who inherited his love of skiing. Nels was admitted to the National Ski Hall of Fame in Michigan in 1971, and added to the Honour Roll of Canadian Skiing in 1983.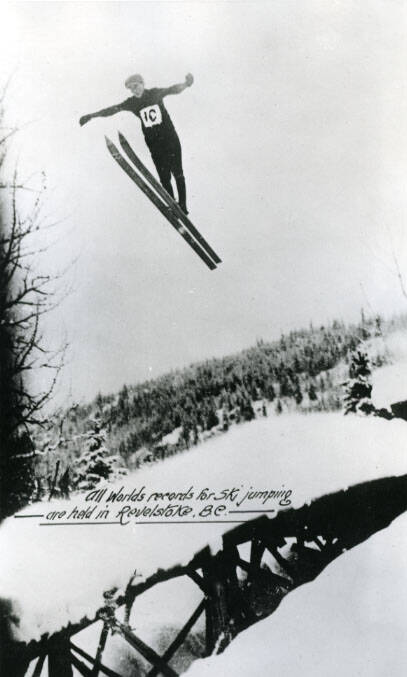 Nels' siblings were all skiers, with his sisters participating in women's distance racing, and his brother Ivind joining him as a ski jumper. In 1920, Ivind set a record for boys under 15, with a leap of 112 feet. The following year, he beat his own record with a jump of 113.5 feet. Ivind was known for his beautiful form. He worked as a ski instructor at Lucerne, Quebec in the 1930s. He used the original form of the family name, and was known as Ivind Nilsen.
The whole Gunnarsen family were a large part of Revelstoke's ski history. Jorgen Michael Gunnarsen and his wife Anna Catherine Gunnarsen came to Revelstoke from Norway with the Nelsen family and settled in Big Eddy, along with sons Carl, Hans, and Gunnar. A fourth son, Emil, was born in Revelstoke. Anna and Jorgen were original members of the Ski Club in 1914. Jorgen won the cross-country event three years in a row and retired the trophy. He was one of Revelstoke's premier ski makers, using the trademark "Blue Nose."
Anna was a well-known distance ski racer who competed in B.C. and Alberta. She was still racing at the age of 48. She once started behind the 17 year old boys and still crossed the finish line first. She often gave other women racers a head start of about 100 yards, and still won most races. She died in August 1956 at the age of 73.
All four sons were excellent skiers. The eldest, Carl, was an excellent skier in all disciplines. During World War II, he was an instructor, training soldiers in the use of skis. He was wounded in action and returned home. Carl, was Hill Captain on the Nels Nelsen Hill until the 1960s. Gunnar, the third son, was also a good skier and jumper. In 1923, he jumped 72 feet, at the young age of seven.
Hans Gunnarsen was expected to rival Nels Nelsen. He had exceptional ability and near perfect form. His favourite event was jumping, but he also won in cross-country, slalom, downhill and combined.
In 1932, when Bob Lymburne took the World Championship at Revelstoke with a jump of 287 feet, Hans was runner-up with a jump of 281 feet, the best of his career. In 1940, Hans won the Canadian Ski Jumping Championships in Banff – the last championship held until after the war. Hans enlisted as a gunner with the Canadian Army and will killed in action in Holland in November 1944.
Isabel Patricia Coursier was born in Revelstoke on March 21, 1906, the daughter of pioneer businessman Henry Noble Coursier and Isabella Steed Coursier.
Isabel received her first pair of skis when she was eight years old. At the Revelstoke Ski Tournament on February 7, 1922, over a month before her 16th birthday, Isabel participated in the Boy's Class D Jump and came in third with 108.5 points, and a jump of 84 feet. This made her the women's world champion ski-jumper. Women jumpers were not encouraged, so her feat was considered ground-breaking.
At the same competition, Isabel Coursier came first in the Ladies' Ski Run, and first in the pony-ski race. This was also known as ski-joring, where the skier was pulled behind a horse. The sport was later banned from local competitions because it was so dangerous.
Isabel Coursier also took place in the 1923 Ski Tournament and was awarded a silver cup for winning the Class C Ladies' Race, and was presented with a gold medal by the Revelstoke Ski Club in appreciation of the skill and daring displayed by the only lady ski-jumper in North America. Isabel also jumped at the Nakusp Ski Tournament in 1923, and at the Mount Rainier National Park Ski Tournament that same year.
In 1925, Isabel Coursier entered the School of Physical and Health Education at McGill University, Montreal . She excelled in track and field, tennis, ice hockey and basketball. She received medals for her accomplishments in Baseball Throw and Javelin Throw. While studying in Montreal, she was invited to perform an exhibition jump at the Frontenac Winter Sports Club, and was the first woman to ever go over the Cote des Neiges jump.
In a Calgary Herald article in 1927, she was described as "Fearless and graceful, like some well-poised bird…As she reached the take-off, she swooped suddenly and swiftly into the air, curved to the earth, and glided speedily down the remainder of the hill to the dead line."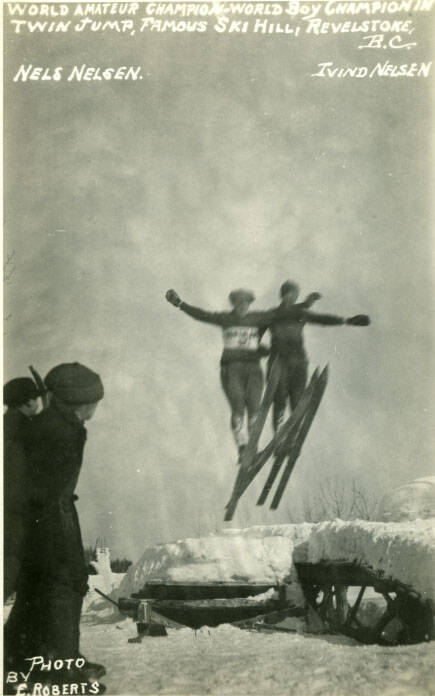 Isabel Coursier graduated from McGill University in May of 1927, at the age of 21, and immediately secured a prestigious position as physical instructress at the Victoria Normal School. Isabel Coursier died in Penticton in 1990 at the age of 84.
Bob Lymburne was born in Ontario in 1912 and came to Revelstoke as a child. The original spelling of the name was Lynburne, but the spelling Lymburne was used throughout his career. His family lived at the base of Mount Macpherson. He first tried skis at the age of 13, and when he was 14, he entered his first competition, and in his own words was an absolute flop. The next year, after much practice, he was winning in his class and getting close to record jumps. Never tried skis until he was 13 years old.
In 1931, at a special Revelstoke tournament, Bob Lymburne made 6 jumps, averaging 226', a feat never equaled in Canada. In 1932, he took the World Record in ski jumping with a jump of 269 feet. It was just the previous year that a US jumper had broken Nels record, and Lymburne was happy to bring the record back to Revelstoke. Bob represented Canada at the 1932 Winter Olympics in Lake Placid, New York, coming 18th.
Bob Lymburne made what is believed to be the first ski ascent of Mount Begbie in May of 1932, leaving town at 4 am. He wasn't too far up the mountain before he was able to put on his skis, and by 8 am he had reached the foot of the glacier and enjoyed several runs on the long, smooth slopes of the glacier. After two hours, he enjoyed his lunch of raw eggs, oranges and raisins, which he believed to be "the most satisfactory lunch for strenuous exercise." He continued to the top peak of the mountain, where he had to remove his skis to get a good foothold. He reached the summit by 1 pm, and started downward. "After many wild, swift rides down the mountain side, the valley was reached and I arrived at Revelstoke the same evening at 6 p.m."
This just scratches the surface of Revelstoke's ski legends. There are so many more remarkable people who contributed to the sport of skiing in Revelstoke, including the McCrae family, Craig Rutherford, Art Johnson, John and Allan McInnes, Larry Nelles, Paul Mair, Kendra Kobelka, Danny Moar, Greg Hill, and many others.
READ MORE: How to fly: A peek behind the curtain at heli-ski piloting, one of Revelstoke's biggest industries
READ MORE: Housing prices on the rise around Thompson-Okanagan
---
@josh_piercey
josh.piercey@revelstokereview.com
Like us on Facebook and follow us on Twitter.
and subscribe to our daily
newsletter
.