On Sept. 25, the Downtown Penticton BIA and Slackwater Brewing will bring a currently dingy back alley to life, for a fun day of music, art, food and culture behind the popular brewery on Martin Street.
Dubbed 'Slack Alley, the pilot project will see the alley walls painted in vibrant colours and designs and eventually in a few months, the pavement will also be painted to match the walls. The city is doing a deep clean of the alley this week before painting artist Christine Shepherd takes her brushes out.
The alley project is designed to raise awareness and put forward the idea that downtown alleys can be used for much more than simply dumpsters and deliveries.
In fact, they can be vibrant, energetic spaces that help bring people together, said DPBIA executive director Brett Turner and Slackwater Brewing's Liam Peyton.
Peyton shared his vision of what the Slack Alley party will look like.
There will be picnic tables set up, a bar, food offered and a kids painting station as well as live music all set up in the back alley behind Slackwater.
"It's going to be a hoot," said Peyton. "It's totally family-friendly and it's going to be something totally different for Penticton."
Turner said the alley is in a perfect location in downtown Penticton as it opens up to a high-traffic area, which is very busy, especially in the summer.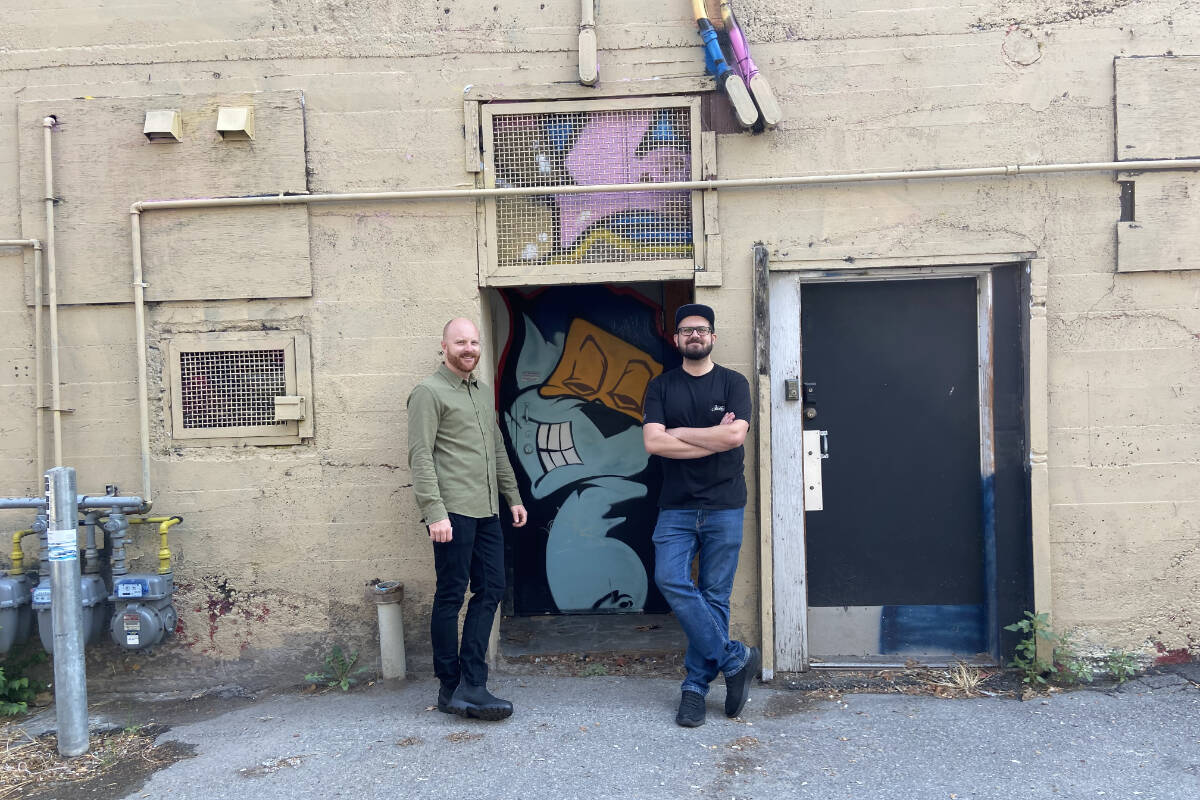 But this isn't the only alley the DPBIA has its eyes on transforming.
They've begun the planning stages for what will become two separate alley transformations in spring 2023, where the alleys will be used for music and other arts to collide in an experience for Penticton residents as well as tourists.
The second alley will focus on art installations, where Turner is in talks with Paul Crawford from the Penticton Art Gallery as well as the Penticton Arts Council to bring in art like sculptures and light installations.
"We are looking at bringing in a hanging lights installation which would look really cool," said Turner.
"We've operated Music in the Park" for years now [in Gyro Park], and we are very excited to bring our vision of Music in the Alley to life," said Turner. "We've seen this creative vision in much larger cities than ours and what better time to activate our alleyways than now."
Peyton was living in Mount Pleasant at the time Vancouver started their alley transformation and alleyway parties.
"It's so great to see alleyways transform into something vibrant and friendly," he said.
The Slack Alley party is Sunday, Sept. 25 from 3 p.m. to 7:30 p.m. It is a family-friendly event with artwork, lighting installations, three interactive musical acts, a kid's art station, beer garden and more. This event is also being supported by The Penticton Art Gallery, Penticton Arts Council and the City of Penticton.
To report a typo, email: editor@pentictonwesternnews.com.
<>
Don't miss a single story and get them delivered directly to your inbox. Sign up today for the Penticton Western News Newsletter.
<>
---
@PentictonNews
newstips@pentictonwesternnews.com
Like us on Facebook and follow us on Twitter.